LESSONS/TOUR/HIRE
Stand up Paddle Boarding is fast becoming popular in Australia & the world.
It is relatively easy to learn and most people are hooked the first time as they realise how fun it is to be standing on the water looking for sea life and enjoying the great outdoors.
Sussex Inlet Stand Up Paddle also offers Fitness on Sups and fitness in Sussex Inlet.
There is no better time than now to enjoy stand up paddle boarding in Sussex Inlet. 
Lessons & Tours available for purchase online or via the contact section. 
All lessons begin with a safety briefing followed by an introduction and demonstration of the basic techniques that will enable you to feel confident on the board.
Lessons run daily during the school holidays. 
Lessons & Tours 1.5 Hours
Large groups 10+ $40 per person
1 person private $90   
2 people $65
2-4 people $60
5-8 people $50
Bookings via email or phone
SUP Board Hire
$25 – 1 Hour
$35 – 1.5 Hours
$50 – 3 Hours
$70 – Full Day
$200 – Weekly
Mega Sup Hire (holds 6 people)
$100 – 1 hr (flat water option only)
ECO FRIENDLY
Explore Sussex Inlet, Cudmirrah & Berrara like never before with a fun journey, learning to paddle board along the pristine waters of Swan Lake, Berrara Lagoon and Sussex Inlet waterways.
Increase your core strength and fitness in a safe, fun and highly addictive sport. We promote an active, healthy lifestyle while enjoying our beautiful waterways and leave the natural environment untouched. A word of warning – you will be literally addicted after your first lesson.
Sussex Inlet Stand Up Paddle is committed to providing a pro-active environmentally aware activity to the local community not impacting on the local environment. We provide the opportunity for lake, lagoon and river enthusiasts to enjoy the natural beauty of our area.
SUP FITNESS / PILATES
Add a new dimension to your stand up paddle boarding by joining a SupFitness and SupPilates classes.
Classes are held weekly or by appointment through the summer months. All equipment supplied and class duration is 1 hour.
This is a new and exciting way to workout. Classes combine elements of SUP, Fitness, Pilates and Yoga whilst you workout on the water surrounded by nature.
When the correct technique is mastered you can move into combining exercises, holding yoga poses and practicing body weight exercises.
Working out on a paddle board is lots of fun and more challenging than on land, the options are endless and importantly fun and effective.
Daily supfit classes run thru the school holidays and weekly from November to April. Phone to book your own private class.
Private Class
Minimum (4) people,
$25 per person
Group Class
$20 per person
School Holiday Fun For the kids
Kids Sup Wise Fun Day
The kids will love the giant mega sup and huge running mat for an active morning on the water and to meet new friends.
Christmas School Holidays Kids Sup Wise Fun Day minimum (6) people
Bring the kids for a fun morning learning to paddleboard at Swan Lake including supwise lesson, games, mega sup fun and morning tea.
Suitable for kids 8-13yrs cost $50 9.30am-12.00pm. Limited spaces so book now!
Note: This is not a shop front – bookings required upon availability
Sussex Inlet Santa Paddle
Santa Paddle 2021 TBC when COVID restrictions are lifted (hopefully first Saturday December)
Please watch this space.
BUY YOUR TICKET NOW!
Book online prior to the event.  Event numbers will be capped so book early to avoid missing out.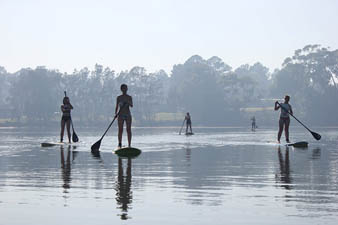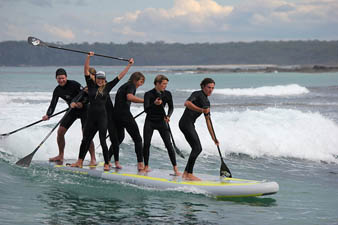 SUP Fitness / SUP Pilates
Sussex Inlet Stand Up Paddle
Goonawarra Drive, Cudmirrah New South Wales 2540, Australia
Hours
7 Days - By Appointment Only